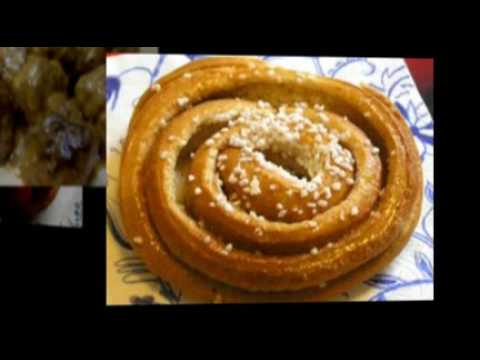 Quick & Easy Swedish Recipes – for Weekdays and Celebrations
By Joacim Kempe
Quick & Easy Recipes is a collection of 73 recipes for typical Swedish foods including main dishes, pastries, and what Joacim calls "other nice stuff." Joacim is just 17 years old, so for him, a requirement is easy and quick to make. He asks, "who does not like it when it goes quick to make dinner?" He dedicated the book to his grandmother and many of the recipes he learned from her while helping her in the kitchen as a little boy. There are some other recipes from family members and some he created himself.
What distinguishes the book from other cookbooks is that Joacim also shares stories about his life. The fact that he has written this book is itself a testimonial to his motivation to overcome many obstacles he has faced.  Delicious recipes are interspersed with stories, both funny and sometimes sad from his life growing up on a farm in beautiful Sweden. The book is written in Swedish, and will be translated to English later in 2010. The book is available at his website:
The Art of Cuisine Cookbook
By Chef Linda Galyean
Personal Chef Linda Galyean has written a cookbook of casseroles, breakfast, potluck, soups & stews and desserts. It's  invaluable, as it contains an enormous assortment of easy-to-follow recipes that make putting dinner on the table a stress-free and even enjoyable experience.
What nine-to-fiver, busy mom or stay-at-home dad isn't looking for the cookbook with quick and easy recipes? With more than 200 recipes at the ready, cooking dinner will be a pleasure, any and every night of the week. Each chapter offers a full range of choices, from soups and salads to hearty entrees and side dishes to stir-fries and grilled favorites. And a selection with some simply delicious desserts and some recipes that are over a hundred years old. For easy recipes, to Grandma's secret recipes; look no further than The Art of Cuisine Cookbook. The book sells for $20.00. Chef Linda donates 25% of the proceeds from her book to the Shriner's Childrens Hospital of California. For more information about Chef Linda or to purchase her book, visit her website:
http://www.theartofcuisine.com/
The Rose Cookbook – a Treasury of Rose Recipes from Around the World
By Laura Denktash
You will fall in love in the kitchen while learning to create nearly 300 sweet and savory dishes with the world's most beloved flower—the rose.  The Rose Cookbook will transport readers to a place where rose petals meet their botanical relatives in a lively collection of recipes that are sure to be the hit of any celebration.
Rose petals breathe new fun and sophistication into tea parties, add romance to dinners, and lend a touch of bed and breakfast charm to Sunday morning brunches! The Rose Cookbook will delight everyone with its wide variety of tantalizing main dishes, sumptuous desserts, elegant tea sandwiches, jams, sauces, beverages, beauty recipes, and a healthy portion of interesting rose history, anecdotes, and quotations.
Cooking with roses is fun, and garnishing a dish with rose petals brings joy to the cook, captivates guests, and fascinates children!  Embark on a wonderful journey as you learn about Laura's transformation from herbal gardening student, to writer, entrepreneur, and inspirational speaker!
The Rose Cookbook sells for $25.00 and is available at:
http://www.therosediva.com/
COMING SOON!!
Brooklyn Babe Makes Good – Sizzlin' in the Kitchen
By Deirdre Mercedes
I am very excited for Deirdre! She is working on her first cookbook of all original recipes that she has been cooking up in her own kitchen. She says she was hooked on cooking at the age of 6 when she first learned how to make an omelette. She hasn't stopped since then!
Deirdre is a dynamic entrepreneur. She's now decided to tap into her lifelong love of cooking and add a book to her accomplishments. Here's what Deirdre has to say:
"Writing a cookbook has become a great way to pass the time as I eagerly await a million tax-free dollars to drop out of the sky and burst through my living room window!  I have always loved to cook and I'm told that I'm pretty good at it.  This book is a natural progression of things I'd say.

My sister and I were latch-key kids so we both learned how to bang the pots very early.  My love for cooking didn't develop out of necessity alone.  Almost everyone around me cooked – my Mom, Dad and Sister, my Aunt and even my babysitter, Nanny.  And they all cooked like gourmet chefs.  Being the youngest, I was guided and counseled by everyone at some time or another.

I started to take cooking very seriously when I realized how much I enjoyed Italian food.  Actually, I love the stuff.  But we couldn't afford to eat out all of the time so I had to figure out how to cook it myself.  My mother tells me that I was making lasagna by the age of 10 or 11.   It went on from there.   One of my favorite things to do when we went out to eat was to guess the ingredients and preparation of dishes on the menu."
This cookbook will be a wonderful collection of fresh and healthy recipes featuring her favorite renditions of fish and fowl accented with lots of fresh herbs and vegetables! She'll also be giving tips about cooking great food ahead of time so you have  nutritious food available when you're on a busy schedule. And who isn't busy? Sounds great, and we can't wait!